Does Your Metairie Demolition Need Asbestos Test Results First?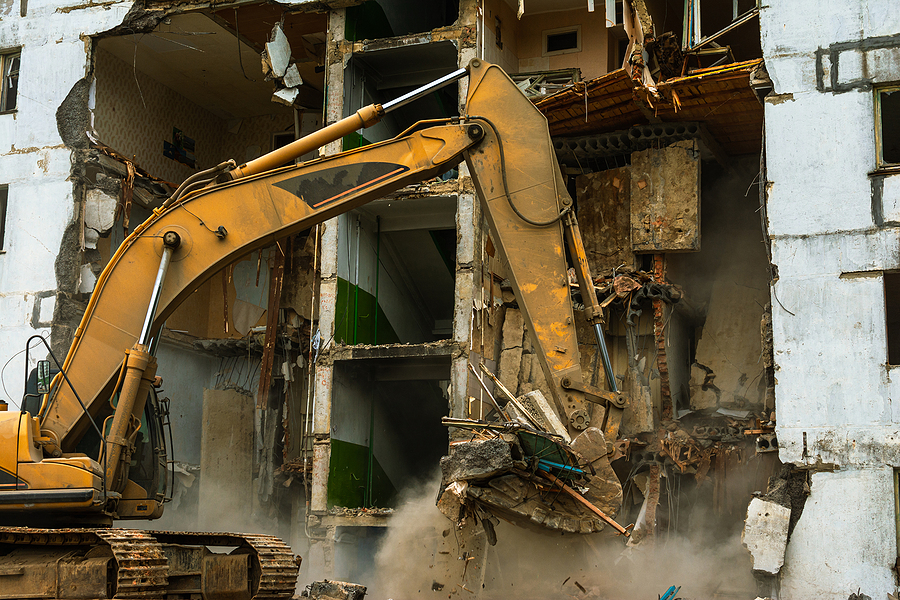 Asbestos was used heavily until the late 1980's in a wide variety of construction materials
Do you have a demolition task in Metairie or a surrounding area building, and Carnival is on the way? You don't want anything to put a stop to all that great creole cooking, praline making, and preparation for parades that we do so well in New Orleans. Unfortunately, all of that can come to a screeching halt if the structure you are having taken down, or serious remodeling/renovations done to, shows up with asbestos present. Asbestos is one of the most hazardous materials to humans and pets that ends up airborne during demolition projects.
The reason is asbestos was used heavily until the late 1980's in a wide variety of
construction materials. It can be regularly found in products ranging from
asbestos insulation and asbestos tiles to linoleum, pipe wrapping, plumbing
parts, insulation for pipes, fireplaces, boilers, and other hot objects, and most of
all, ceiling tiles, popcorn ceilings, drywall and cement board. Nearly every
building built more than 20 years ago has some items containing asbestos, and
to this day it is still included in some production line construction products. Much
of Metairie was built during that period and in particular, a lot of asbestos siding
and ceiling materials were used in and on homes, sheds, and garages due to
cost. Testing for asbestos must be done and corrective measures taken to
complete projects on time in a healthy, environmentally safe manner.
Reasonable Licensed Asbestos Removal in Jefferson Parish
Removal of asbestos containing materials by someone untrained in the handling
of this highly hazardous compound is never recommended. The team at A to Z
Metairie Demolition Company are trained, licensed, and insured. We have
special equipment and best practices in place to make sure the asbestos, a white
fiber that is easily airborne, stays intact and where it belongs so we can safely
remove it, or abate the problem. Too many asbestos removal companies will try
and literally demo the asbestos containing parts of a structure, causing much
fiber to go into the air as dust. Asbestos is a sharp particle that settles in the
lungs and causes serious internal damage that can lead to mesothelioma, a
deadly lung condition in humans. If smokers breathe it in they are two times more
likely to develop serious, if not deadly, health problems. It is very difficult to
eyeball tile, insulation or other construction and internal finishing materials to
determine if asbestos is present. It must be tested for and removed or abated
using proper containment and removal methods.
Removing Asbestos May Be Avoided With Asbestos Abatement
Often when we receive a call to test for the presence of asbestos prior to work
commencing on a project, the property owner is concerned about the potential
costs. We always test first to confirm exactly what things need to be removed or
abated, and determine the potentials for exposure. Asbestos abatement is a
great alternative if it can be done safely and securely. This involves containing
the asbestos, sealing it, and covering it so it cannot flake off into air handling
systems, or get airborne to settle through cracks and further expose occupants.
Abatement for asbestos often is a much better alternative and more cost
effective, and usually is a quicker solution to the potentially deadly problem. This
method is very helpful when the need arises due to property sale or for approval. of remodeling plans. Only a trained and licensed contractor that has specialized
training in asbestos testing and removal should make recommendations for a
solution to the asbestos problem. Call us or send in our contact form for a free
quote and we will get back to you quickly to set up a convenient time to walk your
project. We want to keep Metairie and the entire region safe and healthy.